Psoriasis of the scalp is a skin condition affecting more than 3 million Americans that produces itchy, raised, scaly patches on the scalp. It can manifest itself as one single patch or affect the entire scalp. It can even spread to the forehead and neck or behind your ears.
While scalp psoriasis is not contagious, it tends to run in families. It is believed to be caused by an overactive immune system and the condition can get worse due to stress and eating certain foods. The overactive immune system causes skin cells to divide too quickly (about 10x as fast as normal skin cells). This results in the scaly patches. Psoriasis of the scalp often appears powdery with a silvery sheen.
While psoriasis of the scalp can be mild to severe, with the mild cases resembling dandruff, the more severe cases often involve thick, crusted sores that can be extremely itchy. The intense itching can interfere with sleep and everyday life, while the frequent scratching of the scalp can result in hair loss and skin infections.
Mild cases of scalp psoriasis are generally treated well with certain topical treatments. Products containing tar and salicylic acid usually work well. Reducing stress and limiting the consumption of foods high in histamine can also make a difference.
More severe cases need to be treated systemically under the care of a doctor.
The following video (slideshow-no sound) shows the symptoms of scalp psoriasis very well and that the condition can affect all age groups and people from all backgrounds: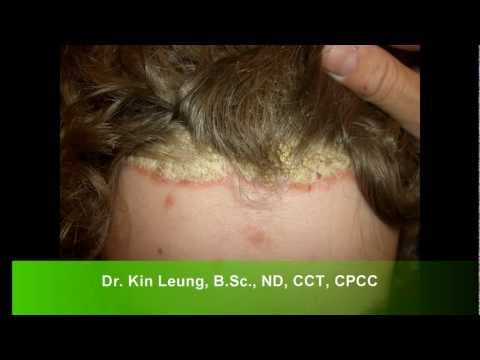 Please note that if you're using any shampoo to treat your scalp psoriasis, that you don't use shampoos that contain sodium lauryl sulfate or sodium laureth sulfate, which can aggravate psoriasis symptoms.
Here is a very useful infographic that shows the basic symptoms of psoriasis very well:
What are your experiences with psoriasis of the scalp? What has worked and what hasn't? Let us know.
Also, check out our posts on foods high in histamine and foods high in antioxidants (that may help keeping your symptoms under control).
Top 10 Histamine Containing Foods
Top 10 Antioxidant Fruits and Nuts